Allow introspection, rejuvenation, and deep relaxation with massage and energy healing at Redpoint Community Studio!
Be sure to check out the Redmond area Smart Shopper for 20% off any massage and energy healing session!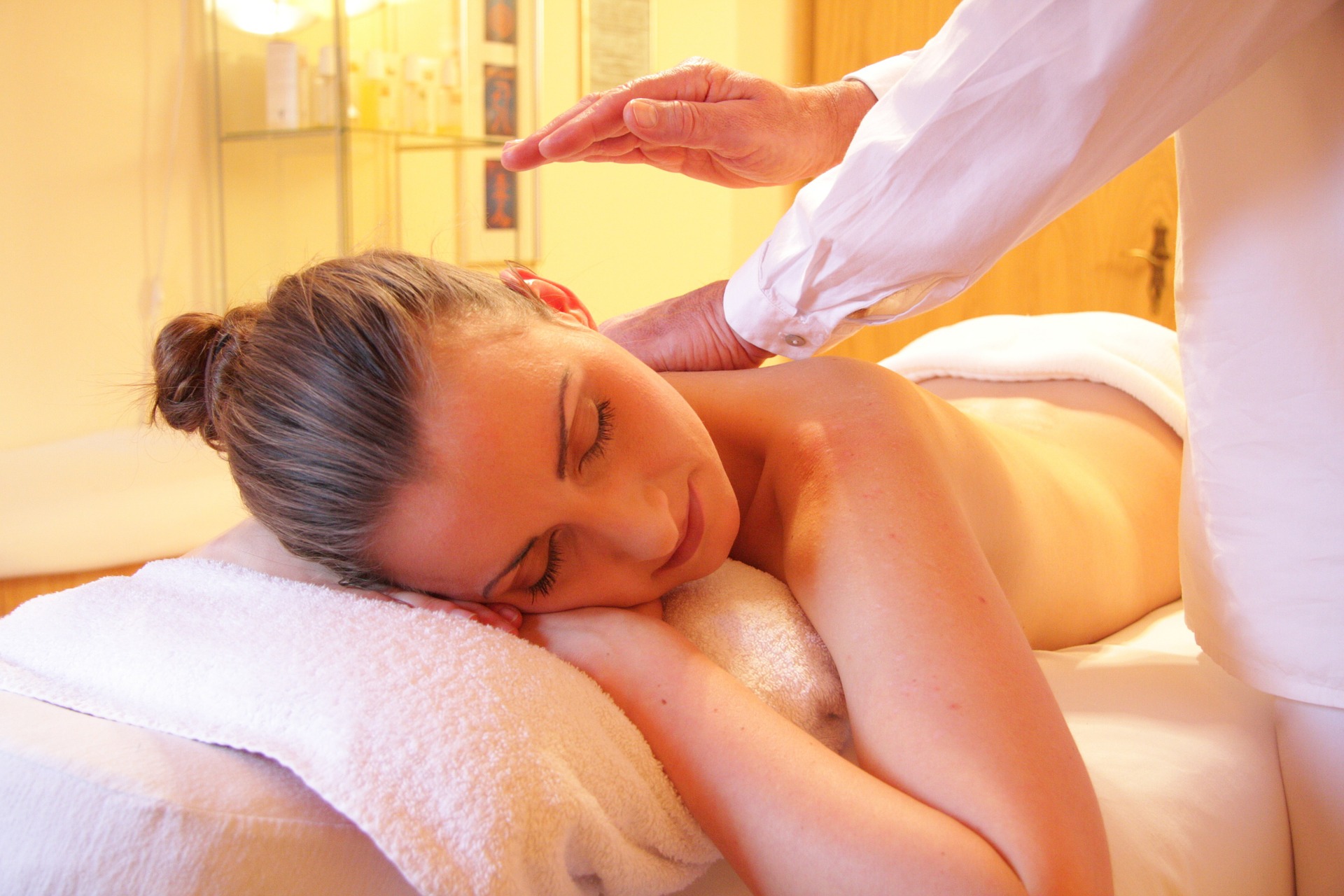 Energy Healing
Chakra & Meridian Balancing
These shorter sessions work to open, clear, and balance your chakras, blocked energy channels or meridians throughout your body, as well as specific organ flows or pathways which may be blocked. This in turn also balances and clears disharmonies within the organs, structures and various systems within the body. To accomplish this, Patricia uses an arrangement of healing stones, sound, color, and breath along with various light hands-on techniques. Sometimes the work goes much deeper releasing old emotional hurts or issues that are creating these blocks. The sessions vary depending on the client and their needs.
Rebalancing Body-Mind-Spirit
These healing sessions create a deep rejuvenating sense of relaxation by using a light touch along with various tools that communicate vibrationally with the body, mind, & spirit. Patricia utilizes various crystals & minerals, sound, breath, and color to move energy and release that which is holding you back from experiencing more of what you wish for, whether it's less pain and discomfort, more clarity, or a deeper sense of peace within.
Energy Healing Specific Concerns
Specific concerns related to can be discussed with a free consultation prior to the actual session. Our healer will work with you to address the course of action and determine the most likely length of session needed.
Meet Your Healer
Patricia: Energy Healing and Vibrational Therapy Practitioner
Services: Chakra & Meridian Balancing and Rebalancing Body-Mind-Spirit
Though she was initially introduced to energy healing in the 80's, Patricia's studies in this field did not begin until 2002. Over the course of about eight years, she became certified in many hands-on modalities and has been a practicing healing arts therapist since 2005. Some of her course certificates include Reiki Master, Jin Shin Jyustu, Reconnective Healing, Body Talk, and Matrix Energetics among others. She has also independently studied the use of various vibrational tools and methods that add to the depth of the healing session.
About her treatments...
"I can't say what you will experience for sure, that is always up to the individual. Normally a treatment will leave you feeling wonderful, possibly more energized, or more open, clear, and balanced feeling. It can alleviate aches & pains, relieve stress or tensions you may have been feeling which will automatically decrease many physical discomforts you may have been experiencing. You may experience immediate differences or you may notice significant changes later in the day or the days to follow. You may notice emotional disturbances lessened or gone. Be aware that many of the affects are internal so they may not be noticeable at first glance, it's always hard to predict. Besides from feeling better than when we began, the rest is for you to experience and see what takes place. The experience alone is very worthwhile, as the feeling of energy moving thru your body can be quite exhilarating."
Schedule an Appointment
To schedule an appointment for any of the above services, please directly contact Patricia at (541) 923-8718 or patriciakirk2855@yahoo.com. Patricia is available for appointments on Tuesdays and Wednesdays.
Massage Therapy
Senior Massage
Massage Therapists: Elisabeth and Shirlene
Therapeutic and accupressure touch and gentle massage are offered to seniors in carefully customized and administered treatments, drawing from Swedish massage (gliding, rubbing and kneading strokes) combined with Comfort Touch techniques (gentle cupping, holding and compressing) and energy work. Focus may range from the full body to just hands, feet or shoulders. Clients may receive massage disrobed (as is typical in traditional massage) or remain fully clothed, in loose, comfortable clothing. Lotion or oil may be used on exposed areas.
Gua Sha Massage
Massage Therapist: Shirlene
Gua sha, meaning "scraping sha-bruises", is a traditional Chinese medical treatment in which the skin is scraped to produce light bruising. Practitioners believe gua sha releases unhealthy elements from injured areas and stimulates blood flow and healing.
Moxabustion Massage
Massage Therapist: Shirlene

Moxibustion is a form of heat therapy in which dried plant materials called "moxa" are burned on or very near the surface of the skin. The intention is to warm and invigorate the flow of Qi (the energy in everything) in the body and dispel certain pathogenic influences.
Myofascial Release
Massage Therapist: Shirlene
Myofascial release (or MFR) is an alternative medicine therapy that claims to treat skeletal muscle immobility and pain by relaxing contracted muscles, improving blood and lymphatic circulation, and stimulating the stretch reflex in muscles.
Prenatal Massage
Massage Therapist: Shirlene
Massage therapy during pregnancy is a wonderful complementary choice for prenatal care. It is a healthy way to reduce stress and promote overall wellness. Massage relieves many of the normal discomforts experienced during pregnancy, such as backaches, stiff neck, leg cramps, headaches and edema (or swelling).
Shiatsu Massage
Massage Therapist: Shirlene
Shiatsu is a manipulative therapy developed in Japan and incorporating techniques of anma (Japanese traditional massage), acupressure, stretching, and Western massage. Shiatsu involves applying pressure to special points or areason the body in order to maintain physical and mental well being, treat disease, or alleviate discomfort.
Sports Massage
Massage Therapist: Shirlene
Sports massage is a form of bodywork geared toward participants in athletics. It is used to help prevent injuries, to prepare the body for athletic activity and maintain it in optimal condition, and to help athletes recover from workouts and injuries.
Swedish Relaxation Massage
Massage Therapists: Elisabeth and Shirlene
Massage for relaxation brings a healthy balance to the body – decreases stress and muscle tension, increases circulation and helps restore the mind-body connection. It is what we think of as traditional massage in the west, incorporating soothing strokes that glide and knead. Pressure ranges from light to medium and oil or lotion is used for lubrication. Along with the many benefits of relaxation, this style of massage is also effective in releasing areas of muscle tension and soreness.
Therapeutic Deep Tissue Massage
Massage Therapists: Elisabeth and Shirlene
Therapeutic Deep Tissue massage goes beyond its Swedish base, bringing additional techniques, deeper pressure and specific focus to areas of the body that need extra attention. Deeper pressure is used, as well as stretching, passive range of motion, trigger point therapy, myofascial release and more.
Thai Massage
Massage Therapist: Shirlene
Through this sophisticated sequence of deep rhythmic acupressure to muscles and Sen (energy) lines during assisted stretches and yoga-like postures, this integrated approach stimulates the body's natural healing ability by unblocking the flow, resulting in an enlivened calm with the recipient.
Meet Your Therapists
Elisabeth
Services: Senior Massage, Swedish Relaxation Massage, and Therapeutic Deep Tissue Massage
Elisabeth offers massage treatments integrating elements of swedish massage, trigger point release therapy, and acupressure. From clients interested in the rejuvenation of deep relaxation to those who are interested in a more active role, Elisabeth tailors each treatment to respond to each individual's needs and preferences. If the client is interested, Elisabeth enjoys sharing information about the relevant musculature and provides stretching and strengthening exercises that speed the movement toward optimum function. Her clients include those seeking pain relief, increased range of motion, reduced muscle tension, injury recovery, energy balancing, overall well-being, and the profound benefits of deep relaxation and nurturing touch. Elisabeth holds degrees from California and Oregon, has been licensed since 2001 and has practiced in varied settings including chiropractic clinics, acupuncture clinics, wellness centers, destination spas, retirement centers and her own private practice.
Shirlene
Services: Senior Massage, Deep Tissue Massage, Gua sha Massage, Moxabustion Massage, Myofascial Release, Prenatal Massage, Shiatsu Massage, Sports Massage, Swedish Massage, and Thai Massage
Shirlene has been a certified nursing assistant for twenty six years, a restorative assistant for 19 years, and a massage therapist for 7 years after graduating from the Central Oregon Community College. She specializes in geriatric massage but practices a wide variety of massage services (as seen above) on clients of all ages. She is a born and raised Oregonian whose hobbies are hiking, running, swimming, horseback riding, and dirt biking. She loves the great outdoors, music, art, working on the farm, and spending time with her family and friends.
Schedule an Appointment
To schedule an appointment with Elisabeth, please directly contact her at (503) 502-5115 or eschock3@gmail.com. Elisabeth is available for appointments on Thursdays and Fridays.
Schedule an appointment with Shirlene by directly contacting her at (541) 410-5922. She is available for appointments on Mondays.